To restore and advance the voting protections for all Americans, a group of Senate and House Democratic lawmakers joined together on Wednesday June 24, 2015 to introduce the Voting Rights Advancement Act (VRAA) of 2015. These Democratic members of Congress aim to utilize the momentum generated by the racist murder of nine African American ministers and church goers in Charleston, South Carolina, to push for the renewal and strengthening of an Act which has been responsible for breaking down the barriers of institutionalized racism in voting and ushering in the largest wave of African American elected officials since the Reconstruction period of the late 1800s.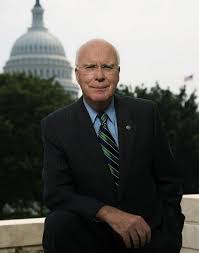 Patrick Leahy
Senate Judiciary Committee Ranking Member Patrick Leahy (D-Vt.), Senator Dick Durbin (D-Ill.), and Senator Chris Coons (D-Del.) introduced the measure in the Senate.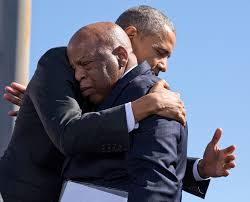 Congressman John Lewis (D-Ga.) and Congresswoman Terri Sewell (D-Ala.) of the Congressional Black Caucus, Congresswoman Linda Sánchez (D-Calif.), chairwoman of the Congressional Hispanic Caucus, and Congresswoman Judy Chu (D-Calif.), chairwoman of the Congressional Asian Pacific American Caucus, introduced an identical measure in the House.
Why is the Voting Rights Advancement Act Important?
While removing the Confederate Battle Flag from public places is long overdue, African Americans should be careful not to allow all of our energies to be misdirected away from the many facets of structural, institutionalized racism and white supremacy which continue to subjugate the African American population. The restoration of the Voting Rights Act is a clear example of a necessary goal which will serve as a litmus test of where the right wing Republican Party is really coming from. We need to issue a challenge to all of the Republican Party governors and other elected officials who are tripping over each other to say that the flag (which they have had no problem with for 40 years) must go. Will these new 'defenders' of African American civil rights  embrace any of the significant policy issues which continue to have a devastating impact on the on-going lives of ordinary African American people.  They are now begrudgingly, belatedly, and hypocritically acknowledging that a symbol of hate and white racist terror has for decades been sanctioned and on-display in the highest institutions of government across the South. Will they also now acknowledge that the racism embedded in these same institutions will not go away by itself and that there is a need for laws and oversight to remedy persistent discrimination and racial subjugation in voting. Further, the African American community must judge these right-wing, conservative Republican officials not by how much lip service they pay to removing the Confederate Battle Flag but by how they vote on issues of substance and whether they are proponents of policies which harm the African American community.
Exactly fifty years ago, the mass movement of African American people forced the United States government to institute a system of pre-clearance and legal oversight to stop and reverse decades of subjugation of African American voting rights. In response to the emergence of African American political power in the South, the system of Jim Crow served to restore the Confederate  powers to a position of authority over the African American population. Least we forget, in the legislature of South Carolina during Reconstruction, Blacks even outnumbered whites by 87 to 40. In the early 1960s, the Confederate Battle Flag was raised by Southern white supremacists as a symbol in opposition to black voting rights and civil rights. In 2015, the same Republicans who are jumping on the band wagon to call for the removal of that flag are blocking the renewal of the Voting Rights Act and have been behind a new movement of white supremacists to make voting changes at the state level which undermine and take back rights which African Americans fought and died for.
African American Voting Rights Under Attack:
Selma to Montgomery marches – Wikipedia, the free encyclopedia
Alabama State troopers attack civil-rights demonstrators outside Selma, … Bevel had been working on his Alabama Project for voting rights since late 1963. … 1,900 members of the Alabama National Guard under Federal command, and many … Subjective application of the laws effectively closed most blacks out of politics.
 Was 2012 the Worst Year Ever for Voting Rights? – The Daily Beast
Aug 22, 2013 … This past election day, a 50-year-old African-American voter in … for African- Americans—easy access to the ballot box—is under attack.
Voting Rights Act of 1965 – US Department of Justice
The murder of voting-rights activists in Philadelphia, Mississippi, gained national … Finally, the unprovoked attack on March 7, 1965, by state troopers on peaceful … Under Section 5, jurisdictions covered by these special provisions could not … and other structural changes to prevent newly-registered black voters from …
Jul 1, 2013 … Probably. RELATED: Civil Rights Lawyers Eulogize Voting Rights Act … Because we Black folks were discriminated against and … RELATED: Johnson Signs Voting Rights Act 47 Years Ago Today, Now Law Is Under Attack.
The GOP War on Voting | Rolling Stone
Aug 30, 2011 … "Voting rights are under attack in America," Rep. …. By contrast, roughly half of all black and Hispanic residents in Wisconsin do not have a …
[amzn_multi_product_inline keyword='African American Voting Rights' count='5' page='1' sort='default' category='Books']
What Others Are Checking Out HI