Republicans Block Debate on Voting Rights
On October 20, 2021, the US Senate held a vote on a voting rights bill, the Freedom to Vote Act, designed to secure the right to vote and stop the advance of restrictive laws being enacted in Republican-controlled states and jurisdictions across the country. That voting rights bill was blocked by Republican members of the United States Senate. Not one single Republican member of the US Senate voted for the Freedom to Vote Act voting rights bill. This marked the third time in 2021 that Democrats tried to advance a voting rights bill in response to nationwide restrictions being enacted by Republicans. In light of these developments, let's look at testimony submitted by voting rights organizations to the US Congress in Senate committee hearings held in 2020.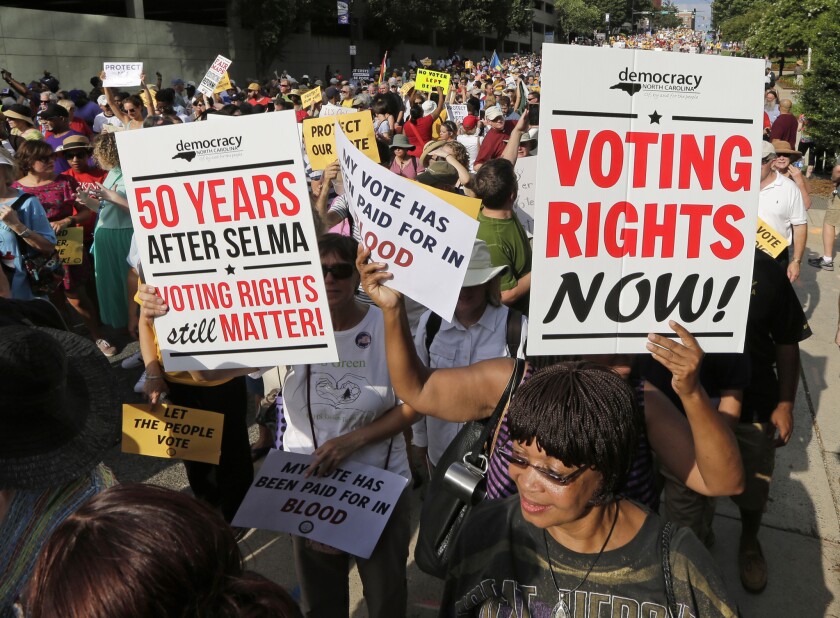 Testimony on Importance of Strong Voting Rights Act
In the wake of the June 25, 2013, Supreme Court's decision in Shelby County v. Holder, both the U.S. House of Representatives and U.S. Senate held committee hearings in 2020 on what Congress can do to restore the Voting Rights Act (VRA). In Shelby County, the Supreme Court struck down Section 4 of the VRA as unconstitutional, holding that its formula can no longer be used as a basis for subjecting covered jurisdictions to preclearance under Section 5 of the VRA. The preclearance provision of Section 5 and the formula for preclearance laid out in Section 4 were widely held as the heart of the VRA, protecting the franchise for black voters as well as other minority citizens.
In order to provide their expertise for the hearings that were held on July 17 and July 18 of that year, several organizations submitted testimony to the committees. FairVote's testimony focused on the importance of establishing voting rules that are intrinsically fair rather than contextually fair; in particular, they proposed statutory changes to make it easier for jurisdictions to adopt fair representation voting methods.
A number of other voting rights and electoral reform organizations submitted testimony as well. Following are links to testimony that will be updated as we receive additional information:
These organizations outlined the ways in which the Voting Rights Act forms an essential protection in defending and expanding the right to vote for voters of color, as well as language minorities. Several groups noted that, without Section 5's protections, communities of color in formerly covered Section 5 jurisdictions are vulnerable to discriminatory voting changes, particularly at the local level, that will arise in jurisdictions now emboldened by the Supreme Court's Shelby County decision. In addition, two of the witnesses that week were law professors Spencer Overton and Justin Levitt.
US Democracy in Peril
FairVote and numerous diverse organizations and scholars across the US have affirmed the continuing necessity of the fully implemented Voting Rights Act. However, despite widespread support for renewed voting rights legislation, the US Congress has failed to deliver. The continued inability of the US Congress to enact legislation to restore – and indeed improve – this critically important piece of civil rights legislation, calls into question the future of US democracy.
As an Amazon Associate, I earn from qualifying purchases. Amazon and the Amazon logo are trademarks of Amazon.com, Inc, or its affiliates.