What lessons should the Democrats learn from the loss of the Governor's race and state House of Delegates in the Virginia 2021 elections and the election night scare in New Jersey? As expected, numerous pundits, news reporters, Democratic and Republican Party operatives, and elected officials have blanketed cable news shows on MSNBC and CNN offering their analyses. Most of that analysis to date has centered on the movement of white so-called swing voters from the Democrats column back to the Republican column.
Suburban Swing Voters & White Women.
One such group that has been the focus of much pontification is white suburban women. Virginia returns and exit polls suggest that some independents and white women in the suburbs moved to Republicans. Many pundits have talked about swing voters and white suburban women moving away from the Democratic Party. What has not really been talked about to any considerable degree is the movement of the Democratic base, in particular, African Americans, young people, and other voters of color. To be clear, these voters did not move from the Democratic Party to the Republican Party in Virginia, New Jersey, or elsewhere.
African Americans & Voters of Color
However, a legitimate question worthy of exploration by serious students of politics is the following. How many African Americans, voters of color, and young voters stayed home and did not bother to vote in 2021? Let's explore why this question is the question to ask.
In the November 2nd Virginia election, did the Democratic base turnout? A preliminary look at the numbers suggests that the answer to this question is no. The Democratic base was depressed when compared with the Republican base. The Democratic Party failed to deliver on promises made to young voters, African Americans, and other voters of color. Here are some basic facts as of November 4th, 2021.
Democrats Failed to Deliver
Criminal Justice Reform (George Floyd Justice and Police Act) – Betrayal – Joe Biden did not fight for this. It was just left hanging in the air after Republicans killed it in the Senate.
John Lewis Voting Rights Advancement Act – Joe Biden did not fight for this. He gave one speech. And U.S. Senate Republicans blocked the John Lewis Voting Rights Act from advancing on Wednesday, November 3rd, 2021, when the Senate took a procedural vote on whether to open debate on the legislation.
Twice in 2021, as of this writing, Republicans blocked the Freedom to Vote Act. The first time it was called the  For the People Act. After being modified at the request of West Virginia U.S. Senator Joe Mansion, the Act preserved standards to overcome new Republican state legislation that limits access to the ballot, and it includes new elements targeted at preventing Republican efforts to undermine elections following the closing of the polls. In 2021 alone, more than a dozen Republican-controlled states have passed laws that make voting harder.
To date in 2021, Democrats have let 2 inconsequential U.S. Senators hijack their legislative agenda, including all of the provisions of the Build Back Better Act. While this Bill and the earlier Infrastructure bill are expected to pass eventually, the legislative process accompanying these bills has made the Democratic Party look weak and unable to govern.
Democrats Waste Power
The key point here is that the Democratic Party is seen as a party that can't enforce Party discipline to accomplish things such as bloc voting, legislative reform, or to do away with the filibuster. The consequence of this inability is: No
Voting Rights Reform
Immigration Reform
Criminal Justice Reform
Supreme Court Reform
Protecting the Right to Organize Act (PRO ACT)
The result is that the Democratic base voters see a Party unable to exercise power.
Republicans Weild Power
On the other hand, Democratic base voters see the Republicans as a party that takes power and uses it. Republicans take what they want, and they don't give a damn who has something to say about it.
Republicans enforce party discipline. They do not fight in public. They display unity. Republican Minority leader Mitch McConnel says there will be no Republican votes for a measure, and there are none – period. No public squabbling.
Republicans take what they want – to hell with how it looks and to hell with the rules.

They took a U.S. Supreme Court seat from President Barack Obama in his last year in the White House – no consequences or retribution from Democrats.
Then they took another U.S. Supreme Court seat in the last month of the Trump Presidency – no consequences or retribution.

They stacked the federal courts – no consequences.
They block Voting Rights – no consequences.
They block Immigration Reform – No consequences.
They block Police Reform – The George Floyd Justice and Police Act – No consequences
The Democrats pussyfoot around with power, but they are scared to exercise it. They demonstrate no strength in governing.
That's why the Democratic base stayed home in Virginia 2021. Why bother to vote if the things you vote for can't get done?
We've got a rigged political system where small states with a few hundred thousand people get to have two U.S. Senate seats while tens of millions of Black and Brown voters have virtually no US Senate representation. Despite this reality, young voters and voters of color defied the odds and delivered the U.S. Senate to Democrats by giving them two Georgia U.S. Senate seats. This gave the Democratic Party full control of the U.S. Presidency, the U.S. Senate, and the U.S. House of Representatives. And, what did the Democrats do with all his power? They squandered it.
Black Voters Get A Bounced Check
First, in 2020, Joe Biden wasn't just a weak and limping candidate. He was Dead on Arrival in South Carolina. African American voters in general, and black women, in particular, gave him another life. For that historical fact alone, he should be kissing the ground that African Americans walk on.  Why do I make such a statement? Well, history teaches us that in politics, to the victor goes the spoils. However, the message communicated to African Americans and other Democratic base voters is that the old adage is true when Republicans win but not when you are the victors. So far, in the minds of many young African American voters, all that African Americans have to show for saving Joe Biden is a bounced check.
Let me add as a disclaimer that I did vote for Joe Biden for President in the 2020 US Presidential election. Also, I voted for Hillary Clinton, Barack Obama, John Kerry, and Al Gore. It is noteworthy that US Majority Whip Jim Clyburn, who represents South Carolina's 6th CD, was referenced in a Politico article as expressing concern that, "Black support for McAuliffe is weaker and less enthusiastic than it could be".
Virginia 2021 – No Last Minute Miracles
As late as three days prior to the Virginia gubernatorial election, Democrats were engaged in the usual election-year folly of making a so-called last-ditched effort to get out the black vote. I recall a memorable quote from a now-retired African American state representative in Mississippi. After being asked on one too many occasions at the eleventh hour by white Democrats to get out the black vote, his answer was the following, "both Jesus and Houdini are dead". Consequently, after neglecting the black community as usual for the length and breadth of election cycles, there will be no last-minute, miraculous turning out of the black vote.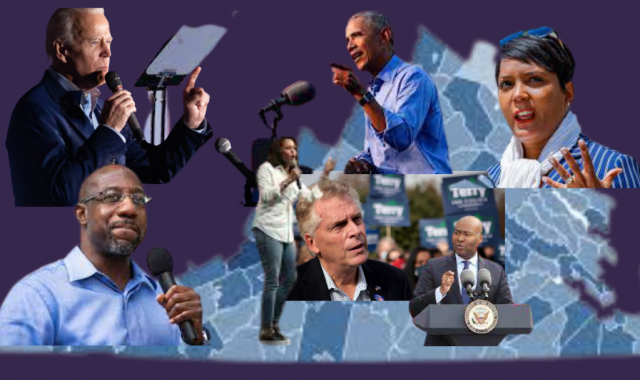 Indeed, true to form, in the final week of the Virginia campaign, the Democratic Party leaders rushed in none other than former U.S. President Barack Obama, current U.S. Vice President, Kamala Harris, Atlanta Mayor, Keisha Lance Bottoms, Georgia U.S. Senator, Raphael Warnock, and Democratic National Committee Chair, Jamie Harrison, in a desperate attempt to pull a rabbit out of the hat. They forgot what my good friend from Mississippi told me. "Both Jesus and Houdini are dead". No last-minute miracles.
High Republican Base Voter Turnout
The Virginia 2021 election results suggest that the Republican base was motivated and turned out. Early reports suggest that turnout was high in rural Virginia in the Southern and South Western parts of the state. Voter turnout was higher than any other gubernatorial election in Virginia since 1997. Election officials in Southwest Virginia reported a jump in voter turnout. There has been a lot of speculation about the reasons for this high Republican base turnout (such as the focus on Critical Race Theory, immigration,  and other racially charged issues, etc). The pundits and talking heads will continue to pontificate about these reasons. It is time to pay attention to the other America – the one left behind. It is not white women and white swing voters who will save the United States of America from the approaching fascism. White women voted for Donald Trump even after they heard him brag that he likes to grab them by the you know what. And white swing voters will continue to move back and forth based upon their interests. It is the African Americans and other voters of color and young voters who are poised to save this country from itself. Isn't it time we start catering to them before it is too late?
As an Amazon Associate, I earn from qualifying purchases. Amazon and the Amazon logo are trademarks of Amazon.com, Inc, or its affiliates.