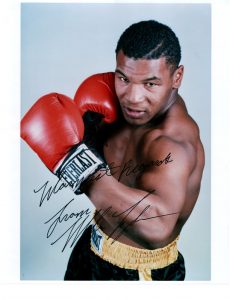 WWE
Mike Tyson's fame is for the boxing ring and not wrestling, but he did spend time as an enforcer or referee for the WWE. He also participated in a tag-team match with Chris Jericho against D-Generation X. His participation in WWE brought the sport a great deal of publicity that may have helped get him inducted into the WWE Hall of Fame in 2012.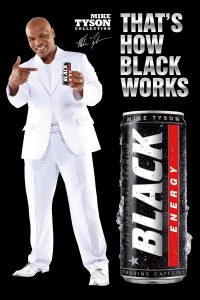 Poland Energy Drink
In Poland, Tyson advertises an energy drink called Black Power. It is the best selling energy drink in Poland and features an image of his face on the can. The advertising outraged rape crisis charities, who claimed that the company was using Tyson and the slogan "Sex Energy" due to him being a convicted rapist.
Fatty Fatty
Tyson has not always had an athletic body. As a child, he weighed in at nearly 200 pounds, which made him borderline obese. Other kids bullied him at this age. He says this led to him turning to boxing and helped him develop the athletic body he maintains. He says it helped him develop his fighting style, which is that of a bully.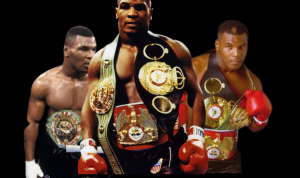 Mike Tyson Unified Boxing Titles
Unless you follow boxing closely, you might not realize that Tyson is the only heavyweight boxer to ever hold the three major titles at one time. In 1987, he held the WBA, IBF, and WBC titles simultaneously. He is the first and only boxer to accomplish unifying all three.
Ethnic Heritage
Many people do not realize that Mike Tyson is partially white. His parents are Jimmy Kirkpatrick and Lorna Tyson–Jimmy Kirkpatrick is of Irish descent. Tyson's paternal grandfather was Irish and Caucasian. Thus, Tyson is one-fourth Caucasian.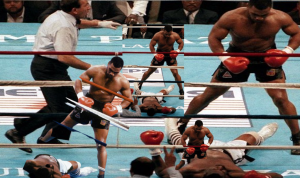 Michael Spinks
In 1988, Tyson and Michael Spinks faced off in the ring. Spinks had never lost a match. Predictions for an intense battle exploded in the news. However, only 91 seconds into the match, Tyson knocked Spinks out. Spinks never fought professionally after the match, and Tyson's career exploded. Many consider this one match to be the best of Tyson's career.
Short
Despite the fact that Iron Mike's height is often stated as being at least 5 feet, 11 inches (sometimes up to 6 feet tall), he is actually shorter. He is only 5 feet, 10 inches tall. This is short compared with many other boxers. When studying techniques, Tyson says he studied shorter boxers to help him in the ring.
The Simpsons
Tyson has a Simpson's character based on his life. Drederick Tatum is a Simpson character that parodies Tyson. He is a boxer with a criminal record who speaks softly, like Tyson. The character also copies Tyson in that he lives in a mansion full of exotic animals. Drederick has appeared in several episodes.
Abstinence
Mike Tyson claims he abstained from sex for five years. During the five years leading up to his reign as champion of the world, he says he did not have sex because he did not want his body to be weak. He believed he would be a stronger boxer due to abstinence.
Bipolar and Broke
On the talk show "The View" in May 2010, Tyson claimed to be destitute and living from one paycheck to the next. However, he also said he was very happy. He also revealed that he has bipolar disorder. This would explain his erratic behavior on many occasions.
Mike Tyson References:
The official website for Mike Tyson: Undisputed Truth on HBO, featuring videos, images, synopsis, and schedule information.
Michael Gerard "Mike" Tyson is an American retired professional boxer. Tyson is a former undisputed heavyweight champion of the world and holds the record …
Tyson, Producer: Tyson. One of the most frightening human beings ever to step into the boxing ring, Tyson was the model of the supreme gladiator …
 Mike Tyson Quotes – BrainyQuote
Enjoy the best Mike Tyson Quotes at BrainyQuote. Quotations by Mike Tyson, American Athlete, Born June 30, 1966. Share with your friends.
Mike Tyson | Sport | The Guardian
Tyson entered the ring at 9am on 11 February 1990 as the undefeated … The gifs that keep on giving: Julian Draxler, Mike Tyson and Pep Guardiola …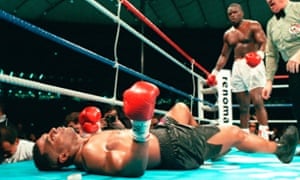 Mike Tyson Playlist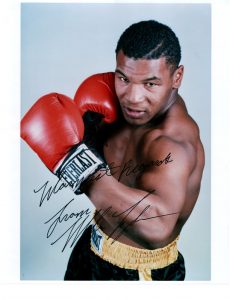 As an Amazon Associate, I earn from qualifying purchases. Amazon and the Amazon logo are trademarks of Amazon.com, Inc, or its affiliates.