International Human Rights and Humanitarian Treaties establishing basis for Reparations:
The right to effective remedy and duty to provide reparation
International Covenant on Civil and Political Rights
Article 2
1. Each State Party to the present Covenant undertakes to respect and to ensure to all individuals within its territory and subject to its jurisdiction the rights recognized in the present Covenant, without distinction of any kind, such as race, color, sex, language, religion, political or other opinion, national or social origin, property, birth or other status.
2. Where not already provided for by existing legislative or other measures, each State Party to the present Covenant undertakes to take the necessary steps, in accordance with its constitutional processes and with the provisions of the present Covenant, to adopt such laws or other measures as may be necessary to give effect to the rights recognized in the present Covenant.
3. Each State Party to the present Covenant undertakes:
(a) To ensure that any person whose rights or freedoms as herein recognized are violated shall have an effective remedy, notwithstanding that the violation has been committed by persons acting in an official capacity;
(b) To ensure that any person claiming such a remedy shall have his right thereto determined by competent judicial, administrative or legislative authorities, or by any other competent authority provided for by the legal system of the State, and to develop the possibilities of judicial remedy;
(c) To ensure that the competent authorities shall enforce such remedies when granted.
International Convention on the Elimination of All Forms of Racial Discrimination

States Parties shall assure to everyone within their jurisdiction effective protection and remedies, through the competent national tribunals and other State institutions, against any acts of racial discrimination which violate his human rights and fundamental freedoms contrary to this Convention, as well as the right to seek from such tribunals just and adequate reparation or satisfaction for any damage suffered as a result of such discrimination.
The United Nations Convention against Torture

Article 14
Each State Party shall ensure in its legal system that the victim of an act of torture obtains redress and has an enforceable right to fair and adequate compensation including the means for as full rehabilitation as possible. In the event of the death of the victim as a result of an act of torture, his dependents shall be entitled to compensation.
Nothing in this article shall affect any right of the victim or other person to compensation which may exist under national law.
While the above international treaties were established after the abolition of slavery within the US, they do establish a framework for understanding why African Americans should be entitled to reparations. In 1944,
"Although the Jews did not yet have a state and therefore were not subject to international law, Dr. Siegfried Moses argued in a 1944 publication that they were the creditors of a collective claim from Germany based on moral wrongdoings" http://www.international.ucla.edu/media/files/Weisshar—German-Reparations-to-Israel-xj-ut0.pdf
There is a solid, documented record of treatment regarding African Americans within the US from at least the year 1619 through the year 1865, and continuing up to the modern era, of  enslavement, torture, brutalizing, lynching, and what could only be described as war crimes and crimes against humanity. No other people in history have experienced such atrocities at the magnitude and for the length of time as those suffered by African Americans.  The holocaust of Jewish people at its outer limits lasted from the year 1933 when Adolph Hitler came to power to the unconditional surrender of Nazi Germany in the year 1945. The suffering and mass annihilation of the Jewish people at the hands of the Nazis was indeed horrendous. Because of it, West Germany began paying reparations to Israel beginning in the year 1952. More recently, Israel has demanded and received an additional 700 million Euros for some 30,000 surviving Nazi victims. The African American claim against the United States is for a period of approximately 250 years of enslavement, rape, genocide and murder and an additional 100 years of racial subjugation, rape, genocide and murder. This is separate and apart from the claim by persons of African descent against Great Britain, the Netherlands, Portugal, Spain, Belgium and the other European powers who carried out the trans-Atlantic slave trade and grew to become industrialized capitalist countries because of it. The Jewish people have not forgotten. They say, "Never Again'. We have not forgotten, either.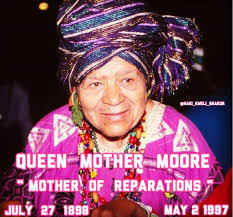 African Americans Got a History Lesson in the Brutality of the Trans-Atlantic Slave Trade at a
Reparations Conference at Chicago State University
The conference was held at a key point in history. The reparations movement has floundered here, but it is growing in the Caribbean.
by Frederick H. Lowe
When the British Parliament passed the Slavery Abolition Act of 1833, abolishing slavery throughout the British Empire, beginning on August 1, 1834, slave-owning plantation owners were angry, and they demanded reparations for their lost property — African slaves.
The British government paid the slaveholders 40 percent of the empire's national expenditures, which was 20 million British pounds. In today's money that is the equivalent of $200 billion, Sir Hilary Beckles, professor of economic history at the University of the West Indies in Bridgetown, Barbados, told attendees during "Revitalizing the Reparations Movement" conference on Saturday at Chicago State University.
The reparations payment was nearly as much as President Barack Obama's $787 billion economic stimulus package, which Congress approved in February 2009.
Sir Beckles, author of "Britain's Black Debt: Reparations for Caribbean Slavery and Native Genocide," made his comments during his keynote address at the one-day conference. He spoke in the place of Dr. Ralph Gonsalves, prime minister of St. Vincent and the Grenadines, who was scheduled to deliver the keynote address but couldn't make it.
Caribbean reparations movement is expected to spark U.S. movement
The conference was held at a key point in history. While the reparations movement has failed to gain traction in the United States, it has taken off in the Caribbean. The movement there is expected to give new life to the reparations movement here.
References:
Reparations Agreement between Israel and West Germany …
The Reparations Agreement between Israel and West Germany (German: Luxemburger Abkommen, Hebrew: הסכם השילומים Heskem HaShillumim) was signed …
For 60th Year, Germany Honors Duty to Pay Holocaust Victims …
17 Nov 2012 … The anniversary of the Luxembourg Agreement was observed in Berlin as the government reaffirmed its duty to continue paying reparations to Hitler's victims. … Greece to Spain drew parallels between Chancellor Angela Merkel's drive for … By starting the program, West Germany, for the first time, assumed …
One of the biggest challenges in discussing the issue of reparations in a political context is deciding how to have a national discussion without allowing the issue …
Listen to Philip Martin's report about reparations debates at Ivy League schools. Aug. 27, 2001 — The U.S. government's first reparations plan to compensate …
Reparations for slavery – Wikipedia, the free encyclopedia
Reparations for slavery is the idea that some form of compensatory payment should be made to the descendants of Blacks who had been enslaved by the …
Full Reparation | Amnesty International
Reparations are measures to address the suffering of victims resulting from these horrific crimes and to help them rebuild their lives. Reparations can include:.
29 May 2013 … The German government has agreed to pay €772 million ($1 billion) for the … The money, which will be given in stages between 2014 and 2017, will … whom reside in Israel — with home nursing care, medication and social services, … 1958 in West Germany – after being beaten and humiliated for 13 years.
association for the study of african american life and history, inc.
20 Jun 2011 … "Reparations Superfund as Vehicle for Cultural Revitalization for U.S. … documents the long movement for African American reparations from …
As an Amazon Associate, I earn from qualifying purchases. Amazon and the Amazon logo are trademarks of Amazon.com, Inc, or its affiliates.