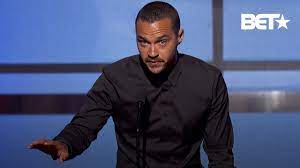 Jesse Williams  Speaks on Police Brutality 2016 BET Awards
Grey's Anatomy actor and social activist Jesse Williams prophetically addressed America during his awards speech at the 16th annual BET Awards on June 26, at the Microsoft Theatre at L.A. Live. Presented with the Humanitarian Award by BET Chairman/CEO Debra Lee, Williams used the stage to deliver an inspiring and fiery speech directly aimed at the injustices black people in America suffered from—and still suffer from—and what needs to take place in order for this to change.
Williams is no stranger to social activism and puts action behind his tweets and social commentary. He has actually written extensively about the Black Lives Matter movement and was also an actor and executive producer of Stay Woke, a documentary about the movement that premiered in May. He joined protests in Ferguson, Missouri back in 2014 to protest the shooting of Michael Brown. Most notably, Williams also met with President Obama earlier this year to discuss his humanitarian work.
It's safe to say that the actor and social activist stole the show, as every word was effectively communicated with style and grace.
Here is Jesse Williams' full speech from the 2016 BET Awards:
BET CEO Debra Lee presented the award for "his continued efforts and steadfast commitment to furthering social change."
Williams' began his awards speech by thanking BET and all involved in the video production that played on the screen before he appeared. He thanked his wife and his parents for "teaching me to focus on comprehension over career, they made sure I learned what the schools are afraid to teach us."
"This award is not for me," he emphasized. "This is for the real organizers all over the country, the activists, the civil rights attorneys, the struggling parents, the families, the teachers, the students that are realizing that a system built to divide and impoverish and destroy us cannot stand if we do. It's kinda basic mathematics: the more we learn about who we are and how we got here the more we will mobilize."
Read the rest at www.blackenterprise.com/bemodernman…

It's our normal to be extraordinary. Follow @blackenterprise and join the BE Modern Man conversation using #BEModernMan.
As an Amazon Associate, I earn from qualifying purchases. Amazon and the Amazon logo are trademarks of Amazon.com, Inc, or its affiliates.