African American activists know May 19th as the birthday of El Hajj Malik El Shabazz, or Malcolm X. As fate would have it, renowned African internationalist and Pan Africanist scholar, activist, and leader, Elombe Brath, joined the spiritual world of the ancestors on May 19th 2014.
I cannot think of a more gifted Pan Africanist leader than Elombe Brath, a Brother whom I have know closely for over 35 years. He taught us about Africa. He taught us about the Honorable Marcus Garvey. He connected the liberation movements of Africa to the African American liberation movement. He was a walking encyclopedia and talented graphic artist and cartoonist/illustrationist. For years he worked very closely with the late Gil Noble, host and producer of the New York City based WABC weekly talk show, Like It Is, arguably the most powerful, provoking, and educational television show focused on the African American experience. But that was his day job. Outside of ABC TV and Like It Is, Elombe was a Freedom Fighter, founder, and, for decades, co-chairman of the Patrice Lumumba Coalition. He was the connective tissue that linked the legacy of the Honorable Marcus Garvey to the more recent struggles of Africans and African Americans.
Elombe singlehandedly brought every representative of the African Liberation Movements to the African American community. Long before others knew of an emerging movement, or who its leaders were, Elombe would seek those leaders out, give them an audience in Harlem, and then make it possible for them to tour the United States. With other greats like Robert Van Lierop, Elombe introduced us to FRELIMO  from Mozambique. Elombe brought us the MPLA from Angola, Ahmed Sekou Toure from Guinea, ZANU from Zimbabwe, SWAPO, from Namibia, the Congolese Nationalist Liberation Front, and, most significantly, the African National Congress, and many others. Elombe's knowledge of the ANC was so detailed and thorough, it was easy to think of him as a member. Without Elombe Brath, our knowledge and connection to the African Liberation movements would have been limited. He researched the movements, raised the money and did what was necessary to bring the African Liberation Movements to the US. He remained a close confidant to many who would emerge to be the leaders of Africa.
When Nelson Mandela Came To Harlem
John Henrik Clarke referred to Elombe as "the Foot Soldier and the General of the Pan African Movement" There was no more fitting tribute to Elombe than his being selected by fellow activists to host and emcee the first visit by Nelson Mandela to Harlem upon Mandela's release from prison. Mandela made two  additional stops in New York City – at Boys and Girls High School in Brooklyn (hosted by Brooklyn based activists), and Yankee Stadium, in the South Bronx. But it was upon the insistence of Elombe and fellow activists that Mandela's most significant and celebrated speaking engagement had to be with the people who fought first and foremost for his freedom. That venue was on the streets of Harlem – 125th St and Adam Clayton Powell Blvd. Hundreds of thousands of African Americans came to greet Mandela in Harlem. And that program was run by activists and chaired by Elombe Brath. I recall the experience like it was yesterday, having served on the Nelson Mandela Welcoming Committee with Elombe and others. Former Black Panther Party Leader  Dhoruba Bin Wahad  had recently been released from prison after serving 19 years. He greeted Mandela on that stage as a representative of  African American political prisoners and prisoners of war in the US.   Being on that stage with Mandela still remains the proudest moment of my life and a memory I will have forever.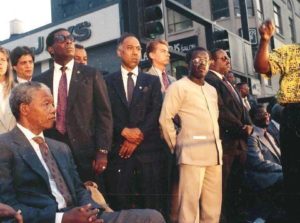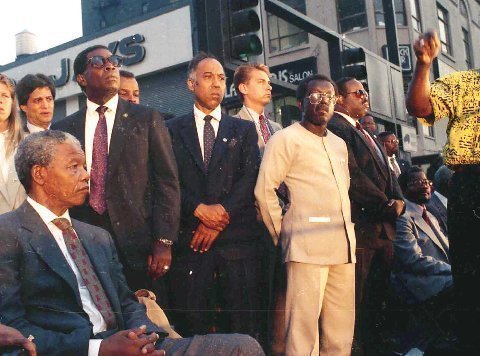 Born on September 30, 1936 in Brooklyn, Elombe Brath grew up in Harlem, and in the Hunt's Point section of the Bronx, in New York City. Elombe developed an artistic talent because his father worked with his hands and was a gifted painter. Within his household there was a lot of political discussion. Newsreels at the Translux Theater introduced Elombe to the inequalities of the world, in particular, imperialism and colonialism. In the South Bronx, he formed the Jazz Arts Society which he would later move to 125th St in Harlem and rename the African Jazz Arts Society and Studio. This was the beginning of what became "The Black Arts Movement"
Elombe was heavily influenced by the Philosophy and Opinions of Marcus Garvey as taught by  Carlos A. Cooks, a Garveyite and the first Administrator of the African Nationalist Pioneer Movement (ANPM). Garvey's influence set the standards for racial pride and material support for the liberation movements. On August 16, 1959, Carlos Cooks issued a call to convention by the ANPM to abrogate the term "Negro" as the official racial classification. Instead, he argued for the use of "Black" when speaking in terms of color (irrespective of complexion) and in relationship to the so-called white, yellow, brown, and red races. Likewise, and even more important, the term "African" would be used when speaking in relationship to land or origin (regardless of one's own "native" birthplace), heritage, and culture. That convention also gave birth to the establishment of an African standard of beauty that could be institutionalized nationwide and was a catalyst to Black consciousness worldwide. It was in those days as a young Garveyite leader of the African Nationalist Pioneer Movement that Elombe initiated the "Naturally" shows that led to the spread and promotion of "Back is Beautiful." Those who associated with Elombe or attended one of his numerous lecture series at the Harriet Tubman School in Harlem remember his detailed knowledge of Garvey and Carlos Cooks.
As Founder and Chair of the Patrice Lumumba Coaliton, Elombe worked tirelessly for the African liberation struggle, holding rallies, demonstrations and speaking at colleges and universities and community forums, for the independence of Angola, Guinea Bissau, Mozambique, Namibia and his anti-apartheid work for the release of Nelson Mandela and for majority rule in South Africa. (This work predated the onslaught of elected officials who flocked to support Mandela in the late 1980s. That legacy was the pivotal point in the vigorous debate over where the main Nelson Mandela welcoming event in the US would be. The activists, led by Elombe, insisted that the main event had to be on the streets of Harlem. The elected officials, who came late to the cause, wanted the main event to be at Yankee Stadium.)  Elombe's support of Guinea in their struggle to maintain their independence despite the war waged against them by the former colonial invaders, Portugal, earned Elombe the Croix de Chivalry from President Ahmed Seku Touré and the government of Guinea. His work with Unity In Action (which he headed) and the African Liberation Support Committee is greatly responsible for countering the millions of dollars spent by the illegal regime in South Africa to get to the minds of the American public and keep them silent to the injustices that were perpetrated on the majority population of South Africa and Namibia. Elombe, with his encyclopedic knowledge, reminded us that critical factors in Mandela's 1990 release from a 27 year prison term, were the struggle of the masses around the world and the crushing military defeat of the South African army by the forces of SWAPO'S People's Liberation Army of Namibia (PLAN), Angola's Angolan People's Liberation Armed Forces (FAPLA) and Cuban International Army Volunteers at Cuito Canavale.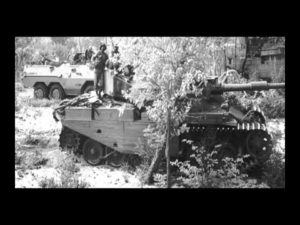 As Elombe would always remind us, "AFRICA FOR THE AFRICANS, THOSE AT HOME AND THOSE ABROAD!"
Segundo – May 21st, 2014
References:
Frances E. W. Harper Literary Society – Newark Public Library
6:30pm, In the Memory of Elombe Brath Voices of Liberation: Patrice Lumumba by Leo Zeilig. Extra Read 6:30pm, Mom and Me & Mom by Maya Angelou …
Racism & oppression – International Action Center
A tribute to Elombe Brath, Pan-African revolutionary teacher. Elombe … Born and raised in Harlem, Brath suffered a number of strokes since 2009. It is ironic that …
Several performers championed their cause outside City Hall Tuesday. ….. A Tribute to Dr. Maya Angelou (06/09/2014) A memorial for Maya Angelou was held in North … Sunset Service for Elombe Brath (05/30/2014) Saturday May 31st , the last day of …. South Africans vote; ANC favored (05/07/2014) Polling stations closed …
Originally from Jamaica, Marcus Garvey became a loyal leader of the Black Nationalism and Pan-Africanism movements. Learn more at Biography.com.
Martha King. [Garvey was born in 1887]. Garvey, called a "black Moses" during his lifetime, created the largest African American organization, with hundreds of …
Marcus Mosiah Garvey, Jr. (1887-1940), a Jamaican born immigrant, was an early twentieth century African-American leader who was a founder and staunch  …

To Harlem s masses, unfazed by the red baiting and anti-Cuba hysteria of the day, … Mealy, along with contributors Elombe Brath, LeRoi Jones (Amiri Baraka),  …
Tribute: Elombe Brath, Pan-African Who Championed Africa …
http://www.blackstarnews.com/us-politics/justice/tribute-elombe-brath-pan-african-who-championed-africa-dies.html
Your favorite news delivered directly to your door! Only $75 for 52 issues! 
Harlem mourns death of Elombe Brath, lifelong warrior in battle for pan-African empowerment – NY Daily News
http://www.nydailynews.com/new-york/uptown/harlem-mourns-death-activist-elombe-brath-article-1.1800926
'Tireless and genuine fighter,'
Brath
, who was 77, fought apartheid as founder of Patrice Lumumba Coalition. Fought to end use of term 'negro', advocated on behalf of Central Park 5 and co-founded African Jazz-Arts Society & Studios.
Tributary Messages for Elombe Brath – Our Living Hero – New York State Senate
http://www.nysenate.gov/blogs/2013/may/07/tributary-messages-elombe-brath-our-living-hero
NY Senate Homepage. Bill Perkins's Blog. As you may already know on Saturday, May 11, 2013 we will be paying tribute to our hero, brother and friend
Elombe
Brath
. Saturday's program is rich with expressions of love from many who know him and have shared experiences with him over the years.
Harlem Mourns Passing Of Elombe
Brath
http://www.harlemworldmag.com/harlem-mourns-passing-elombe-brath/
Harlem World Magazine. Harlem Mourns Passing Of
Elombe
Brath
. Harlem is bidding farewell to an indefatigable freedom fighter and pan-African activist who waged a decades-long battle for black empowerment at home and around the world.
Elombe
Brath
died Monday night at Amsterdam Nursing Home in Harlem.
Conferences – Ama, A Story of the Atlantic Slave Trade
The Symposium Chair is Manthia Diawara, professor of Comparative Literature & Film … Kamau Brathwaite: poet, cultural historian of the Afro-Caribbean experience. ….. women's predicament/lives and what are the prospects for women's …. special emphasis on youth/young people – sharing and passing … Elombe Brath.
Frances E. W. Harper Literary Society – Newark Public Library
6:30pm, In the Memory of Elombe Brath Voices of Liberation: Patrice Lumumba by Leo Zeilig. Extra Read 6:30pm, Mom and Me & Mom by Maya Angelou …
The African Burial Grounds: Noel Pointer & Elombe Brath on CACE INT'L TV (part 2)
Elombe Brath and Noel Pointer represented the African-American community seeking an African Burial Ground site for the bodies of native Africans which were d…
Mumia Abu-Jamal's "Elombe Brath 70th Birthday Message"
October 1, 2006.
Elombe Brath – Revolutionary Pan-Africanist
Powerful, uplifting tribute to a giant in the peoples' struggles by Steve Millies.6/6/14.
Elombe Brath Tribute: The Producer's Cut
This the Producer's Cut of "Tribute To An Ancestor: Elombe Brath" This final edition contains a new mix and sounds fro Elombe's Homecoming at the Abyssinian …
As an Amazon Associate, I earn from qualifying purchases. Amazon and the Amazon logo are trademarks of Amazon.com, Inc, or its affiliates.