Amazon Labor Union Win is Huge Upset
The Amazon Labor Union founder Christian Smalls was the subject of racist and condescending remarks by Amazon management. The company made a conscious decision to make him the face of the organizing campaign. According to the text of a leaked company memo, Amazon executives, including Jeff Besos, stated that Smalls was "not smart or articulate". Boy, did that backfire on them! The former Amazon employee Christian Smalls led the victorious push to unionize the Amazon warehouse on Staten Island. According to Steven Greenhouse who has written extensively for decades about labor issues and organizing for the New York Times, The Amazon Labor Union "victory at the Amazon warehouse in Staten Island is by far the biggest beat the odds David versus Goliath, unionization win I've seen".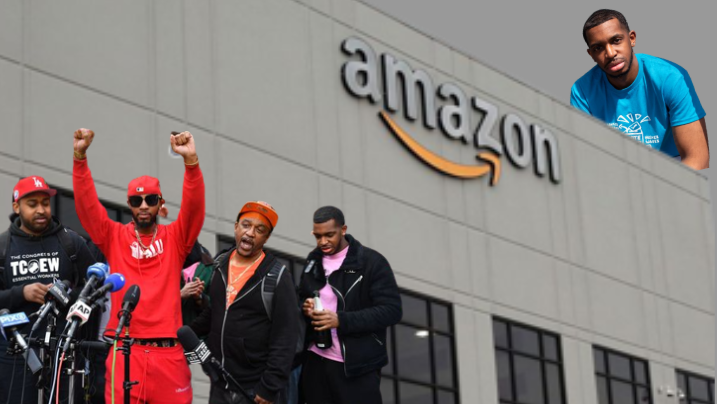 Appearing on MSNBC after the victory, the Amazon Labor Union founder Christian Smalls said,
"I've been fired from Amazon for two years now, and I'm still unemployed, as I speak, but I couldn't have done it without the support of my comrades. The workers that have been here before all of this even happened without their support, without their dedication, and sacrifice, none of this would have been possible."
When workers have to make these decisions, there are many pressures. People have the right to join or not to join. He was asked whether workers at the warehouse debated the issue of whether Amazon and Jeff Bezos, specifically, were funding interfering in a way that made it not a free and open debate. Smalls responded, "Of course, it wasn't, fair".  Smalls continued,
"Amazon spends billions of dollars. There have already been reports of how much money they spent on us and that's the surface level. I can guarantee they spend a lot more money than that. They lost a lot of money, union-busting against us, and it starts from the top Jeff Bezos himself. I was arrested a few weeks ago, along with two organizers."
One of the organizers had been arrested twice, and in just three months, during the campaign. "This will tell you the lengths of what they're doing to stop us, so this is the best in the world."
In the US overall, labor participation has crashed to a nearly all-time low.  In the United States, that rate is down to about one out of ten employees. This victory by the African American led Amazon labor Union is a big deal for Amazon to have this crack in its anti-labor activities.
Former Labor Secretary Robert Reich said, "This is the biggest labor victory in the last 30 years." I want to congratulate Christian Smalls and all of the workers at the Amazon warehouse, but it goes far beyond the Amazon warehouse. We are seeing the beginnings of a revival of labor organization in America, such as we have not seen. And it's about time. Workers need, and deserve, higher wages, better working conditions, and safer working conditions. Amazon, just about the most profitable company in the United States, and the second-largest employer in the United States, pouring in huge amounts of money to stop unionization, unfairly illegally. This is not just David and Goliath. This is David and Goliath squared. it's extraordinary."
Smalls addressed the question of what people need to know about what goes into those warehouses in the amazon delivery system. He understands that most people have probably used Amazon or gotten a delivery, and people appreciate the aspect of the service and the price. "You know I've never blamed the customer. The customers definitely don't know what it entails with these jobs. Let me break it down. These warehouses are massive. They are almost a million square feet if not over. They're 14 NFL football fields, I used to tell my new hires: if you have a gym membership, you have to cancel it because you're doing 10 to 12 hours of calisthenics.
Your break is only 30 minutes. you're being tracked for every single second to ensure that you're not standing and idle. You have to prepare yourself mentally really over more of the physical aspect because you have to change your whole lifestyle when you work for this company. You lose family time. You lose sleep. Your commute is two and a half hours three hours, depending on where you live." He lived in New Jersey and commuted to and from Staten Island.
Smalls said the workers are very disconnected from society. All they know is Amazon. And when customers support this company, they've got to understand that the workers' voices matter too. On top of all of that, the Amazon workers were deemed essential workers during the height of the Covid-19 pandemic.
They weren't asked. He argues that with a high school diploma and a GED, their job titles didn't say work in the middle of a deadly pandemic. That led him to walk out and then ultimately led him to lead this union drive. "I'm happy that we were once again able to be successful, and we've seen more democratic politicians and others engage in this labor debate.
It has been pointed out that Smalls and his colleagues succeeded through organizing. There weren't any leaders, local or in congress, that were helpful. "We haven't had any support since we started, and you know I tried to invite them. I tried to reach out. I did the best I could. I met with them. AOC, personally, said that she was going to come and she canceled on me the day before."
"But all I can say is you know it's unfortunate.  I saw a tweet where she said that this is not in her district. I just think that's a terrible response because there's absolutely workers that live in her district that travel and commute to Staten Island every day that I know personally. And, you know, it's disheartening to them. These are her constituents. I'm from New Jersey, "
She doesn't represent me, but I know the workers that are on my voters' list. We talked to about 8,300 people. They absolutely come from her district and she should be more supportive. Not just her a lot of others.
As an Amazon Associate, I earn from qualifying purchases. Amazon and the Amazon logo are trademarks of Amazon.com, Inc, or its affiliates.